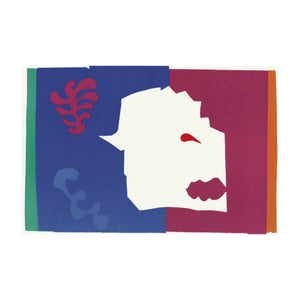 Color lithograph from papier gouache-découpé.
Bibliography: Claude Duthuit, Catalog raisonné des ouvrages illustrés n. 22. (390 × 585 mm).
Perfect copy, table outside the text of the folder Jazz in the second edition edited by the Édition Anthèse, printed by Arts Litho Guilbaud under the direction of Claude Draeger and Mario Ferreri and issued in 1300 unnumbered copies on 250 gr Velin Bfk Rives blanc paper. in 2004.
There is a first edition of 370 copies printed in 1947 by Fernand Mourlot on Arches paper for the publisher Tériade (Verve). Perfect conservation, with editorial fold and uncut margins.