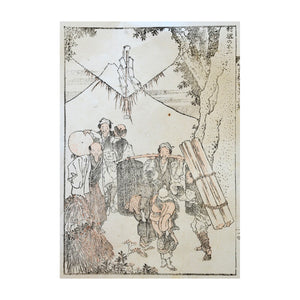 Murazakai no fuji
Series : One Hundred Views of Fuji, Fugaku Hyakkei.
Technique: nishikie, woodcuts in two shades of gray and one of pink.
Format: hanshinbon koban (about 183x123 mm).
Signatures : Zen Hokusai Iitsu aratame Gakyorojin Manji.
Artist's seal : Fuji no Yama.
Dates : 1834-1836.
Engravers: Egawa Tomekichi and Tsentaro.
Publishers: Nishimura Yuzo, Eirakuya Toshiro.
Beautiful proof with good contrasts, in a fourth edition published by Tohikedo in 1852 with the characteristic pink tone. Printed on Japan paper, in excellent condition, with clean edges all around beyond the marginal line.
Bibliography:
Calza GC Hokusai, the old fool for painting , Milan 1999-2000, London, 2003.
Calza GC Hokusai, the hundred views of Fuji , Milan, 1982.
Dickins FV Fugaku hiyaku-kei: one hundred view of Fuji by Hokusai , London, 1880.
Forrer M. Hokusai, prints and drawings , London, 1991.
Hillier J. The art of Hokusai in book illustration , London, 1980.
Lane R. Hokusai, life and works , Milan, 1991.
Salamon Villa T., The hundred views of Fuji, Turin, 1975.
Smith II H. Hokusai: one hundred view of Fuji by Hokusai, London, 1988.
Usually the boundaries of the villages were marked by temples or other markers in order to propitiate the local Kami .
The illustrated sign, formed of paper strips with votive offerings, Gohei , was placed on a string stretched between two branches.
In Shinto temples there are no idols or images of deities, the revered Kami are represented by Goshintai or mi-tama-shiro , mirrors, stones, swords, etc. or give Gohei , paper offerings, bells, floral arrangements.