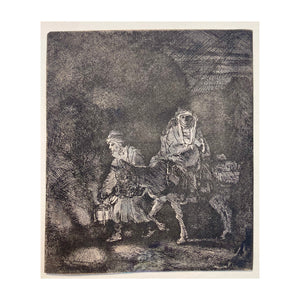 Original etching. Bibliography: Bartsch-Hollstein 53; New Holl. 262; Hind. 253; White-Boon 57 (mm.125x109).
Beautiful proof in the fifth state out of five, printed on paper datable to the mid-1750s, in excellent condition, complete with the engraved part.
In the light of the lantern the Holy Family walks through a nocturnal landscape (Mt 2: 13-15). 
In 1650 Rembrandt created a series of nocturnes, which allowed him to explore the various ways in which individual light sources can illuminate a dark scene. LaVergine riding the mule is immersed in the shade, Giuseppe goes through a play of shadows created by the splendor of the lantern, whose windows are the only point where Rembrandt has left the original white of the paper visible.