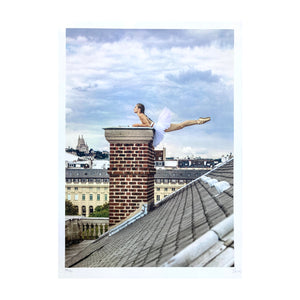 Original lithograph in 21 colors hand signed and numbered by the artist. (mm.700x500)

Perfect copy, printed on Voirin and Marinoni flatbed machines in a total of 250 copies on White paper BFK Rives - 250 gr. from Ditto Paris.
Perfect conservation, clean margins. Embossing stamp of the artist in the lower right corner and of the printer in the lower left corner.
JR has been collaborating with the dancers of the Opera for several years, here he offers us a portrait of a dancer on the roofs of Paris, in front of the Sacré-Coeur.