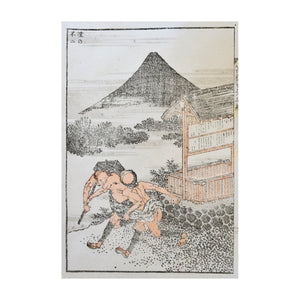 Akatsuki no fuji
Series : One Hundred Views of Fuji, Fugaku Hyakkei.
Technique: nishikie, woodcuts in two shades of gray and one of pink.
Format: hanshinbon koban (about 183x123 mm).
Signatures : Zen Hokusai Iitsu aratame Gakyorojin Manji.
Artist's seal : Fuji no Yama.
Dates : 1834-1836.
Engravers: Egawa Tomekichi and Tsentaro.
Publishers: Nishimura Yuzo, Eirakuya Toshiro.
Beautiful proof with good contrasts, in a fourth edition published by Tohikedo in 1852 with the characteristic pink tone. Printed on Japan paper, in excellent condition, with clean edges all around beyond the marginal line.
Bibliography:
Calza GC Hokusai, the old fool for painting , Milan 1999-2000, London, 2003.
Calza GC Hokusai, the hundred views of Fuji , Milan, 1982.
Dickins FV Fugaku hiyaku-kei: one hundred view of Fuji by Hokusai , London, 1880.
Forrer M. Hokusai, prints and drawings , London, 1991.
Hillier J. The art of Hokusai in book illustration , London, 1980.
Lane R. Hokusai, life and works , Milan, 1991.
Salamon Villa T., The hundred views of Fuji, Turin, 1975.
Smith II H. Hokusai: one hundred view of Fuji by Hokusai, London, 1988.
Fuji at dawn, two couriers at a kosatsu , the place where public announcements are posted. The scene is dominated by the dark stillness of the mountain, as seen against the light.
Hikiaku , literally 'flying legs', were the relays of the shogun 's courier service that connected Edo with Kyoto, the emperor's seat, covering the route of about 514 km in just three days and 10 hours.