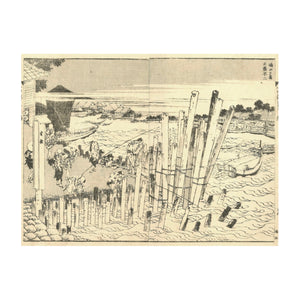 Series : One Hundred Views of Fuji, Fugaku Hyakkei 
Technique: nishikie, woodcuts in two shades of gray.
Format: hanshinbon koban diptych (about 183x253 mm)
Signatures : Zen Hokusai Iitsu aratame Gakyorojin Manji
Artist's seal : Fuji no Yama
Dates : engraved between 1834 – 1836, impressed between 1850 and 1870
Engravers: Egawa Tomekichi and Tsentaro
Publisher: Katano Toshiro.
Splendid proof with good contrasts, in the third edition from the original woodcuts. Printed on Japan paper, in excellent condition, with clean edges all around beyond the marginal line.
Bibliography:
Calza GC Hokusai, the old fool for painting , Milan 1999-2000, London, 2003.
Calza GC Hokusai, the hundred views of Fuji , Milan, 1982.
Dickins FV Fugaku hiyaku-kei: one hundred view of Fuji by Hokusai , London, 1880.
Forrer M. Hokusai, prints and drawings , London, 1991.
Hillier J. The art of Hokusai in book illustration , London, 1980.
Lane R. Hokusai, life and works , Milan, 1991.
Salamon Villa T., The hundred views of Fuji, Turin, 1975.
Smith II H. Hokusai: one hundred view of Fuji by Hokusai, London, 1988.
Shimadagahana, the Shimada quay, would be identified by Suzuki in the area of the canals near Fugakawa but the pattern of the wave motion of the water would seem to rule out that it could be a view of a canal.
Smith points out how the Fuji drawn in black, to underline the advance of darkness, is the same as the one dotted in the plate Onmayagashi yori Ryobashi sekiyo o miru , a view of the sunset at the Ryobashi bridge, from the series Thirty-six views of Fuji , as well as the relaxed atmosphere of the characters depicted in both drawings, may suggest a common theme and, therefore, a depiction of the famous pier called Hyappongui , the hundred poles, near the Ryogoku bridge.
This scene probably combines different views along the Sumida River to create a generic water frame view of Mount Fuji.