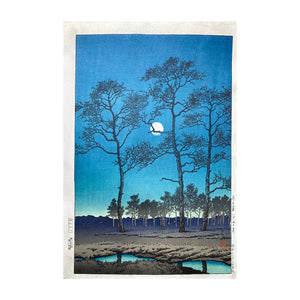 Technique: nishikie, Color Woodcut, Shin Hanga , 

Signed Hasui, red seal of the artist "Kawase".
Format: oban (mm. 360x238)
Publisher: Doi Teiichi 
Printer and engraver: Harada, Yokoi.

Wonderful proof with excellent colors. Printed on Japan paper after 1956 as per engraver's, printer's stamps. In perfect condition, with excellent margins all around beyond the marginal line. 
References: Hotei, Kendall H. Brown, Kawase Hasui: The complete woodblock prints , 2003, no. 260.
Kendall H. Brown, Visions Of Japan: Kawase Hasui's Masterpieces , Hotei, 2004, no.45  p.81.