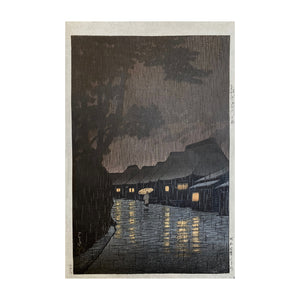 Rain in Maekawa, Soshun from the series Selection of Views of the Tokaido, Soshu Maekawa no Ame, 1932

Technique: nishikie, color woodcut, Shin Hanga, signed Hasui, red seal of the artist "Kawase".
Format: oban (mm.355x240)
Publisher: Watanabe Sh ō zabur ō
 Printer and engraver: Harada, Ikeda.
Bibliography: Kendall H. Brown, Amy Regime Newland, Kawase Hasui: The complete woodblock prints, Hotei, 2003, n. 496; p. 401. Kendall H. Brown, Visions Of Japan: Kawase Hasui's Masterpieces, Hotei, 2004 p.83. Amanda T. Zehnder, Modern Japanese Prints: The Twentieth Century, Canergie Museum of art, 2009, p. 87.
Wonderful test with excellent colors. Imprinted on Japan paper between 1936 and 1956. In perfect condition, with excellent margins all around beyond the marginal line. 
Signed, Hasui red seal. Right Margin: The Japanese title and date, "Showa Shichi Nen Ni Gatsu Saku" (Produced in the 2nd month of the 7th year of Showa, February 1932), Left Margin: Publisher's copyright stamp, Watanabe of Tokyo.
The province of S ō sh ū corresponds to the current prefecture of Kanagawa. In the picture one  series of traditional houses with thatched roofs, the shadows of large pine trees, a person walking with an umbrella and the straight lines of the rain produce a sense of tranquility.