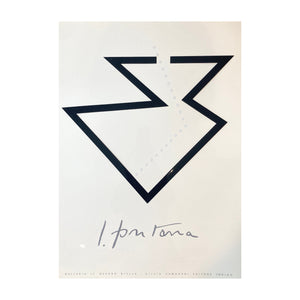 Original screenprint printed on transparent acetate sheet and signed in the plate.
(work dimensions mm. 390x440, paper dimensions mm. 700x500).
Bibliography: Lucio Fontana: engravings, graphics, multiples, publications, edited by Camillo Rigo and Harry Ruhé, Ed. Reverdito, Trento, 2007, page 134 ref. S-18.
Perfect copy in the second edition printed for the gallery il Quadro di Biella and published by Silvio Zamorani, Turin in 1982. First edition Prent, Utrecht, 1965. Perfect conservation, with intact margins.