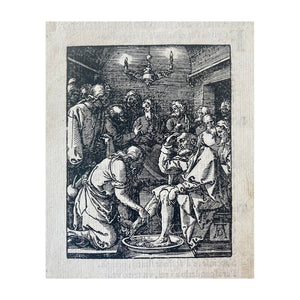 Original woodcut monogrammed in the lower right image. (mm.128x98)
Bibliography:
Hollstein, 134; Bartsch, 25; Schoch / Mende / Scherbaum 195; Meder 134; Panofsky, 245; Strauss, 135; TIB 1001.225; A. Hass, Two Devotional Manuals by Albrecht Dürer: The "'Small Passion" and the "Engraved Passion." Iconography, Context and Spirituality, in Zeitschrift für Kunstgeschichte 63. Bd., H. 2 (2000), pp. 169-230. Page 62. https://www.metmuseum.org/art/collection/search/388045
From the series "The Little Passion on Wood". Magnificent proof, printed on contemporary laid paper, with full margins, in excellent condition
This is the ninth plate from the second edition of the series, published by Daniel Bissuccio in Venice in 1612. The first edition was published in Nuremberg in 1511. This edition consists of 37 illustrations, all with Italian text on the reverse, signature D under the image . 
Around 1509, while still completing the Great Passion, Dürer began his most extensive series of the passions of Christ, The Little Passion, which includes thirty-seven woodcuts. The series was released as a book; each plate is accompanied by a narrative-descriptive text composed by Dürer's friend, the humanist cleric Benedictus Chelidonius. 
Christ is shown without a halo, so as not to be distinguishable from his own disciples: he is simply a lovingly humble human being who lends service to his fellow men. This aspect is reinforced by the verses of Chelidonius engraved on the verse, which reaffirm the importance of humility and love.