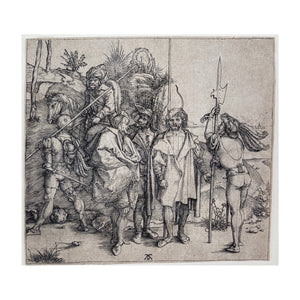 Original engraving, plate monogrammed in the lower center.
Bibliography: Meder and Hollstein 81 c / e, Bartsh 88.
Magnificent contemporary test in the third variant out of five. Imprinted on paper with the watermark of the "Gothic P with flower", (Meder321), datable between 1500 and 1514.
In perfect condition. With a thin margin all around beyond the marginal line.
On the reverse the number 426 and the initials of a collector not reported by Lugt.