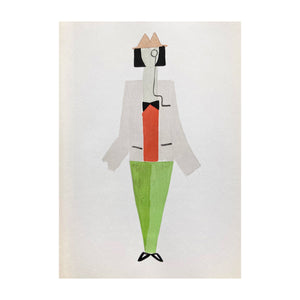 Color pochoir lithograph. Bibliography: Jacques Damase, Sonia Delaunay 1925, Robes et gouaches simultanées: dell'arte et le corps, rythmes - couleurs en mouvement, Paris, 1974.
Marina Bairrao, Ruivo and Matteo Bianchi, Sonia Delaunay. Atelier Simultané 1923-1934, Pages of Art editions, 2006. (measures of the sheet mm.285x190; measures of the engraved part mm.220x95)
Perfect copy taken from the series consisting of 27 tables of "Tableaux vivants", in the original edition of XXV + CL + 500 copies, numbered and signed in the colophon of the volume, our copy is no. 369.

Introduction by Jacques Damase, texts by Guillame Apollinaire and Blaise Cendras.
Printed for the typographic part at the Hofer printing house in Paris, for the illustrations at the Daniel Jacomet printing house in Paris on Chiffon de Mandeure paper. Published by Edizioni del Naviglio, Milan, 1969. Perfect conservation with intact margins.
Series inspired by the silhouettes prepared by the artist between 1919 and 1928 in his Atelier Simultané in Paris.