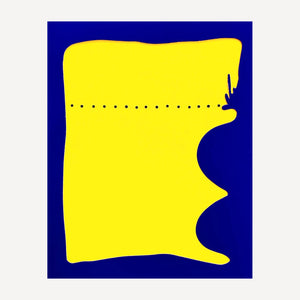 Original color screen printing. (mm.210x165).
Bibliography: Lucio Fontana: engravings, graphics, multiples, publications, edited by Camillo Rigo and Harry Ruhé, Ed. Reverdito, Trento, 2007, page 184.
Perfect copy taken from the artist's book published in 1966 for the Jolas Gallery, Paris, in the first and only edition, and printed by Sergio Tosi Milan. Texts by Gillo Dorfles and photographic portraits by Ugo Mulas. The Teatrino is composed of two sheets, one of which, irregularly shaped, acts as a scenic backdrop and is superimposed on another blank with small holes variously arranged on the page.