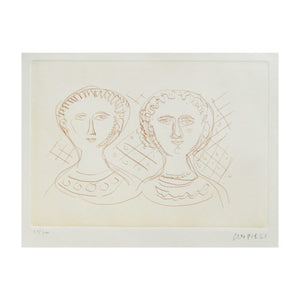 Original etching, registered Campigli. Bibliography: Meloni. (240 × 350 mm of the engraved part, 350 × 500 mm of the paper).
Perfect copy. Plate outside the text of the volume of
Le Memorie di Casanova
by Italo Calvino, engraved in 1965 at the Romero Printing House, Rome and printed on Mulino del Gallo paper in a total of 450 copies in 1981 by Sciardelli of Milan on behalf of the Salamon and Tonini Editions. Only a few print proofs are known before this edition. In an exceptional state of conservation, with uncut margins.