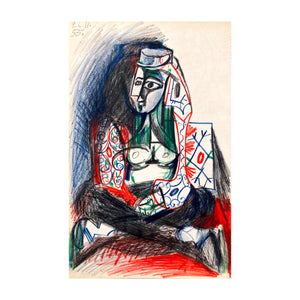 Dated color lithograph in plate. Bibliography: Cramer 101. (mm. 420x265).
Perfect copy, taken from the book of drawings made by Picasso between 11-3-1955 and 1-1956, and printed in lithograph on Arches paper by Mourlot Frères in 1959 in a total of 1500 copies for the Cercle d'Art editions.
In excellent condition, with the exception of very slight yellowing at the edges of the sheet (from 2 to 5 mm); pristine editorial margins.