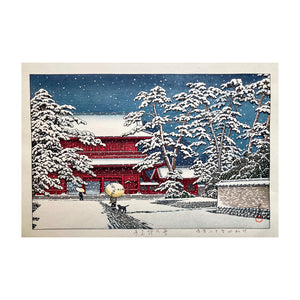 Technique: nishikie, color woodcut, Shin Hanga, signed Hasui, red seal of the artist "Kawase".
Format: oban (mm.235x364)
Publisher: Sakai and Kawaguchi, Watanabe
Printer: Shoshiba
Bibliography: Hotei
Wonderful test with excellent colors. Imprinted on Japan paper. In perfect condition, with excellent margins all around beyond the marginal line.
In 1953 the Japanese government awarded this print the title of Intangible Cultural Treasure.